http://www.youtube.com/watch?v=xYXapj2H8rM&feature=youtu.be
Listen to one of Elsie's original compositions, which is a lovely companion to her book.
Today I'm delighted to introduce Elsie Park, the author of Shadows of Valor, a newly released novel of medieval romantic suspense.
The plot:
Through the muddy, mired streets of medieval England, The Shadow is a man shrouded by legend and fear. He is the enforcer of justice for King Edward, a man who has set an unreasonably high export tax to the point that smuggling now taints his kingdom.
The Shadow, who is really a simple man known as Sir Calan, is tasked with capturing the smugglers. Although talented and just, Sir Calan struggles to keep justice from becoming ruthless revenge and wars within himself to keep his actions in check.
While journeying to Graywall, Sir Calan learns of a deadly plot against Lord Shaufton. In an effort to unveil the evil that lurks behind the city's walls, The Shadow takes on his original guise as Sir Calan and enters a pseudo courtship with Lord Shaufton's daughter.
However, it isn't Lord Shaufton's daughter who stirs Sir Calan's buried emotions, but Elsbeth, Lord Shaufton's niece. Elsbeth seems to be the only one who can heal Sir Calan's troubled soul, but she has a story of her own. (from amazon.com)
From the Jolly Fish Press Release:

In Shadows of Valor, Park throws the reader into a quiet medieval town. On the surface, the town is content and booming, but within its roots, something dark is stirring. This darkness threatens to overpower the once-peaceful town, until a mysterious figure appears: The Shadow.
Blurring the psychological haze of justice and revenge, Park's debut novel brings new meaning to the Dark Knight. As the legendary shadow of Graywall is summoned to protect the spawning deceit of the kingdom, the reader is taken on a chivalric adventure through the muddy and mired streets of medieval England, where evil is as inescapable as the shadow that lurks behind its walls.
Growing up in a small mountain town outside of Yosemite National Park, California, U.S.A., Elsie enjoyed playing soccer, playing piano, reading, writing, art and spending time with family and friends. Years ago she spent 18 months in Italy teaching the gospel of Jesus Christ. Seeing the castles and old Roman cities only added to her fascination for ancient and medieval culture. In college she studied zoology, botany and criminal justice.
From wildland firefighter to a security guard, police officer, botanist, and zoologist, Park has done it all. It was only a matter of time before she wrote her first novel. While on a hiatus to Italy, Park was inspired by the thick presence of ancient and medieval history. She felt it in its walls, and slowly, yet surely, a story was born. She is c
urrently a stay-at-home mom, spending time with her children and husband. She loves thinking up new ideas for interesting stories and musical compositions to go with them.
Back cover of Shadows of Valor
Let's talk, Elsie! First, a bit about you:


J: What's the best decision you've ever made?
E: Getting married and having children.


J:
What's something you'll never do again?
E: Scuba diving. I took a class and got certified, but felt claustrophobic and extremely frightened during the final test. I found out that I don't do very well in environments where I can't breath air if my regulator is removed from my mouth.
J: Me, too. I'm surprised you went that far and got certified!
J: You often post delicious recipes on Facebook. Where did you learn to cook, and what are your favorite dishes to make?
E:*Laugh* I post a lot of recipes that look divine, but that I haven't ever attempted to cook. I try out a few things that turn out decent, and I owe my training to my mother and mother-in-law. Both great women! Some favorite dishes to make are chicken pillows, scrambled French toast, homemade pizza, baked chicken and baked meatballs.
J:
Tell us about the intriguing cover of Shadows of Valor.
E:The cover is made up of photographs taken of Paulina Baykova and Brady Knighton by Christopher Loke (the Jolly Fish Press executive editor) and Yelena Baykova (film producer). Paulina portrays my heroine, Elsbeth, and Brady portrays my knight-spy working for King Edward I as the mysterious figure, The Shadow (aka: Sir Calan). I love what the Jolly Fish Press design team did with the cover! Awesome!


J:
Y
ou compose music. Recently, several of your compositions were inspired by your book. Tell us about them and if there's a link
where we can hear them.
E: I wrote three ballads into Shadows of Valor. 1)
May's Good Day
is a fun song with no meaning that simply celebrates May Day. 2)
One Brave Knight
(my favorite and the most medieval-sounding of the three) is sung from the perspective of a lady seeking aid and pleading for a knight to rescue her. 3)
Love Endures
tells how true love weathers any trial and comes out victorious and strong. I haven't posted them in audio form yet, but all the songs in the long and shortened sheet music versions for piano can be viewed, downloaded and printed from my blog at:
http://www.elsiepark.blogspot.com/p/blog-page_16.html
J:Wonderful! I'm glad to learn they're available for musical people to enjoy!
J:What is your next project?
I'm working on a book that takes place several years after
Shadows of Valor.
I've taken a minor character from
Shadows of Valor
and have weaved an adventurous, romantic story around him as well. It's not a sequel, per se, but a stand alone book like
Shadows of Valor
.
These were fun questions, Janet. Thanks for having me on your blog!
My pleasure, Elsie!
Here's where you can learn more about Elsie and her book: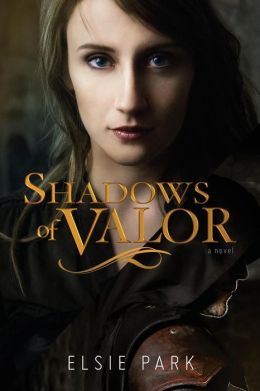 SHADOWS OF VALOR
'S release date was September 7, 2013 through Jolly Fish Press. It can be ordered from any bookstore including Barnes and Noble and Amazon.com and will be available in hard cover, paperback and on e-readers (including Kindle, Nook, and Kobo, as well as any tablet, smartphone, or computer).
CATEGORY: ADULT / ROMANCE / HISTORICAL
PAGES: 310
SIZE: 6" x 9"
DESTRIBUTION: INGRAM
- Hardcover ($28.99):
978-1-939967-06-0
- Trade Paperback ($16.99):
978-1-939967-07-7
- Ebook ($7.99):
978-1-939967-08-4
Twitter: @elsiepark1